Retailers are doing a good job of reaching us by way of our noses. Americans are purchasing candles and air fresheners at record rates, but for those with allergies to scents, this can make the holiday miserable in a hurry.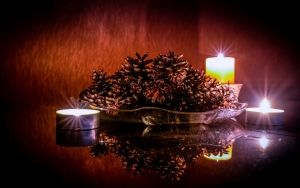 If you have experienced any of the below symptoms in reaction to holiday fragrances, you may have scent-related allergies:
Allergic rhinitis (runny nose, sneezing)
Eye allergies (red, itchy)
Headaches and dizziness
Atopic dermatitis (hives, eczema, etc.)
Wheezing, coughing, asthma
For some, walking away from the scent is enough to stop the symptoms, but for others, the misery may continue long after the "trigger" is removed.
There is a range of reactions to scents stretching from a small irritant reaction to a full-throttle allergic reaction. Either way, the stimulus is likely the brew of chemicals used to engineer man-made fragrances. (Note that some scents are made up of more than 200 types of chemicals.)
So how do you avoid these scented items? Unfortunately, no matter how much resolve you show in removing them from your own living space, you're at the mercy of others when you step into shopping centers, the work place, or holiday parties. Be aware that you may need to excuse yourself from certain settings if your allergies are getting the best of you. It is also a good idea to communicate your sensitivities to those around you. For example, if a co-worker is fond of holiday air fresheners, politely explain to them that they are detrimental to their health.
While small bouts of passing allergies may be part of life, if your health is consistently affected by your allergies, allergy treatment may be right for you. The Family Allergy Clinic can help you learn more about a no-shots, no-hassle approach to allergy immunotherapy.