For most, Thanksgiving simply means good food and family moments, but for an allergic person, the long table filled with dishes harboring potential allergens could be a nightmare. If you or your child has an allergy, there's a way to enjoy a hearty Thanksgiving feast without those allergy-causing ingredients. Consider these tips for allergy-free dining.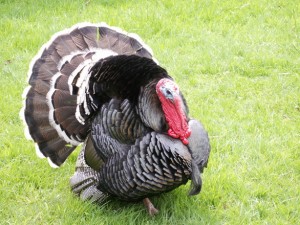 Dip Alternatives
Veggies and dip are a common appetizer, but dips can contain dairy and eggs that may stir up allergies. Many dairy-free eaters can tolerate Greek yogurt better than milk, and yogurt can make a nice substitute for mayo or sour cream. Also consider using bean-based dips. The beans contain great protein and, when processed, have a nice creamy consistency.
The Star of Thanksgiving Dinner
Many turkeys come basted in broth that contains wheat starch. If you have wheat allergies, beware! Look for gluten-free turkey as a replacement. Also, don't use the gravy packet that comes with the turkey. It almost certainly contains wheat starch.
Gravy from Scratch
It's best to make your own gravy so you can regulate the ingredients. Alternative thickeners include corn starch, gluten-free flour, or arrowroot. (Use caution with arrowroot as it is a little fussy to cook with and can't be reheated well.)
Cranberry Sauce/Salad
Some purchased cranberry sauce contains gluten or wheat. Homemade variations of cranberry salad can also include nuts and dairy products. Thankfully, cranberry sauce is very easy to make by boiling together cranberries, sugar (or honey/agave), water, and orange juce/orange zest.
Allergy-Free Mashed Potatoes
Mashed potatoes are heavy on cream and butter. Click here for dairy-free mashed potato recipes that use alternatives such as vegetable broth, almond milk, and more to lend a creamy texture to potatoes.
Turkey Stuffing
Use wheat-free bread alternatives to create allergy-free stuffing.
If watching your diet can keep you symptom-free without too many adjustments, that's great, but be mindful that if food allergies are significantly affecting your quality of life, talk to Family Allergy Clinic about food allergy treatment using sublingual immunotherapy.
Save